Together, we're committing to making

safe and responsible transitions to clean energy

in New Mexico.
In New Mexico, AES is committed to supporting a safe and reliable transition to clean energy as we invest in local communities. New Mexico is emerging as a leader in renewable energy and wind energy already accounts for producing 20% of total electric utility generation in the state. At AES, we want to utilize new technologies and innovation to help New Mexico achieve its goal of generating 100% of electricity retail sales from renewable sources by 2045.
AES has nearly 1,000 MW of planned clean energy development in New Mexico. Our clean energy projects create jobs, build community partnerships, generate substantial property tax revenue for local governments and protect the environment. We are dedicated to building meaningful partnerships with area nonprofits, educational institutions and local businesses to help ensure our projects provide long-lasting benefit to the community.
The stable tax revenue generated by each of our projects fund important county services such as education, local infrastructure, and rural economic development. in addition, we have worked hard to bring community benefits through employee volunteerism, donations and meaningful partnerships.
Planned Projects in New Mexico
| Project name | Location | Facility type | Facility size | Expected operational date | Project website |
| --- | --- | --- | --- | --- | --- |
| Rancho Viejo Solar | Santa Fe County | Solar | 96 MW | TBD | Visit |
| Community solar portfolio | Multiple | Solar | 185 MW +/- | TBD | Visit |
| Storage portfolio | Multiple | Storage | 375 MW | TBD |   |
Project information is approximate and subject to change.

Who can participate?
Any person or organization with an electric utility bill can opt into a program once it is offered in your area. The solar facilities are regionally located and can allow many participants to access the clean energy output. The program eliminates the need for a sunny rooftop, home ownership or maintenance of a system.

Why participate?
Solar energy provides many economic and environmental benefits. Subscribers of a community solar program receive solar bill credits from their electric utility company. Bill credits create savings for program participants. These programs expand access to reliable clean energy while reducing reliance on carbon-based fuels.

How to participate?
This program is new to New Mexico residents and is expected to be available for participation in 2023. AES is developing community solar projects in multiple counties in the state. Once a participant joins a community solar project, there is no interruption to your service and you'll continue to get your normal electricity bill with a new section for the solar energy credits. Once community solar projects are available for participation, customers can contact us to learn more and to subscribe.
Community impact
We believe in being a good neighbor, ensuring responsible renewable energy development that benefits both the environment and local communities. At AES, we understand that our success as a company is only as strong as our partnerships with the communities where we operate. That's why we partner with communities, customers, state agencies, higher education, elected officials and other key stakeholders to see how we can best work together to support sustainable social and economic development that complement the local geography and unique culture.
AES continues to explore community programs in New Mexico for partnerships, including tribal engagement, educational and workforce training, and environmental and wildlife impacts.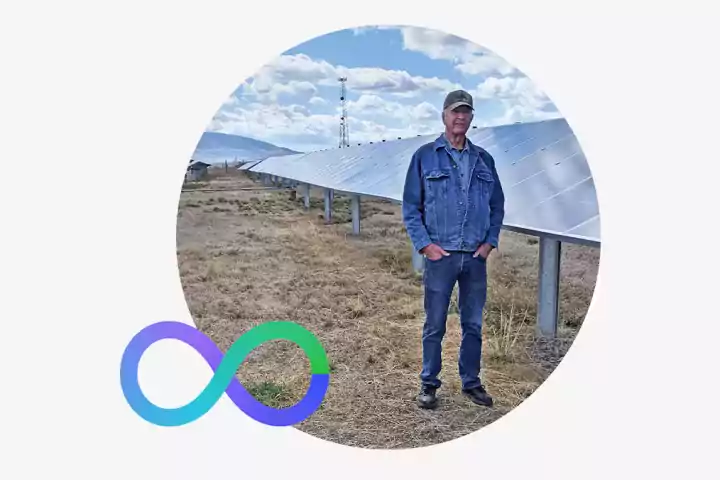 Partnering

 with Santa Fe Youthworks
AES is building relationships and programs in New Mexico as we continue to expand our utility-scale and community solar development in the state. Our partnership with Santa Fe YouthWorks is a workforce development program co-created with the organization.
Santa Fe YouthWorks is a Santa Fe-based non-profit organization that has engaged thousands of young people representing diverse cultural and ethnic backgrounds from across Northern New Mexico, offering them undivided attention to help them navigate the world around them. YouthWorks combines non-traditional education attainment with employability skills training, mentoring and leadership development.
AES donated funds to support a customized, computer-based solar installation training program for YouthWorks. Our donation will help ten students to attend two courses that prepare the students for the PV Associates exam. In a cohort setting in YouthWork's computer lab, students will follow the coursework for a PV101 and a PV203 training course which introduces students to the fundamentals and applications of PV systems. The PV101 course focuses on grid-direct PV systems but covers material critical to understanding all PV systems. The PV203 course builds a foundation for understanding many battery-based applications.
Participating in this solar installation training course by Solar Energy International allows students to enter the solar workforce with substantial skills and experience while opening the door to many career opportunities in the renewable energy industry.
Preserving the land and creating

new opportunities

with landowners
We understand the importance of protecting farmland and the local environment when developing solar energy projects. Therefore, we believe in being a good neighbor by giving back and preserving the character of the communities we serve while providing reliable, clean energy.
We offer landowners opportunities to tap into new sources of revenue on their land while retaining ownership throughout the entire life of the project. For many, this is a welcome complement to land use and an opportunity to diversify their land investment while hedging against volatile commodity prices. For others, our projects offer an income stream and land-use option where none otherwise existed.
Our team and landowners work together, in partnership, from the early stages of site discussions, through permitting, construction and operation. The landowner relationship with AES is built on trust and open communication, ensuring our projects create a long-lasting, positive impact for our landowners and local communities.