Project description
The Riverside Solar project is a 100 megawatt (MW) solar photovoltaic electric generating facility proposed to be located in the towns of Lyme and Brownville in Jefferson County, New York. The project will span approximately 1,000 acres and plans to connect on National Grid's Lyme Tap off of the Thousand Island - Coffeen 115kv line. The project is anticipated to positively impact both the environment and the local economy by reducing carbon dioxide emissions by an estimated 133,000 metric tons each year – the equivalent of powering approximately 24,000 homes' electricity use per year. Additionally, the project will contribute to the local economy by producing significant tax revenue and other economic benefits for the area.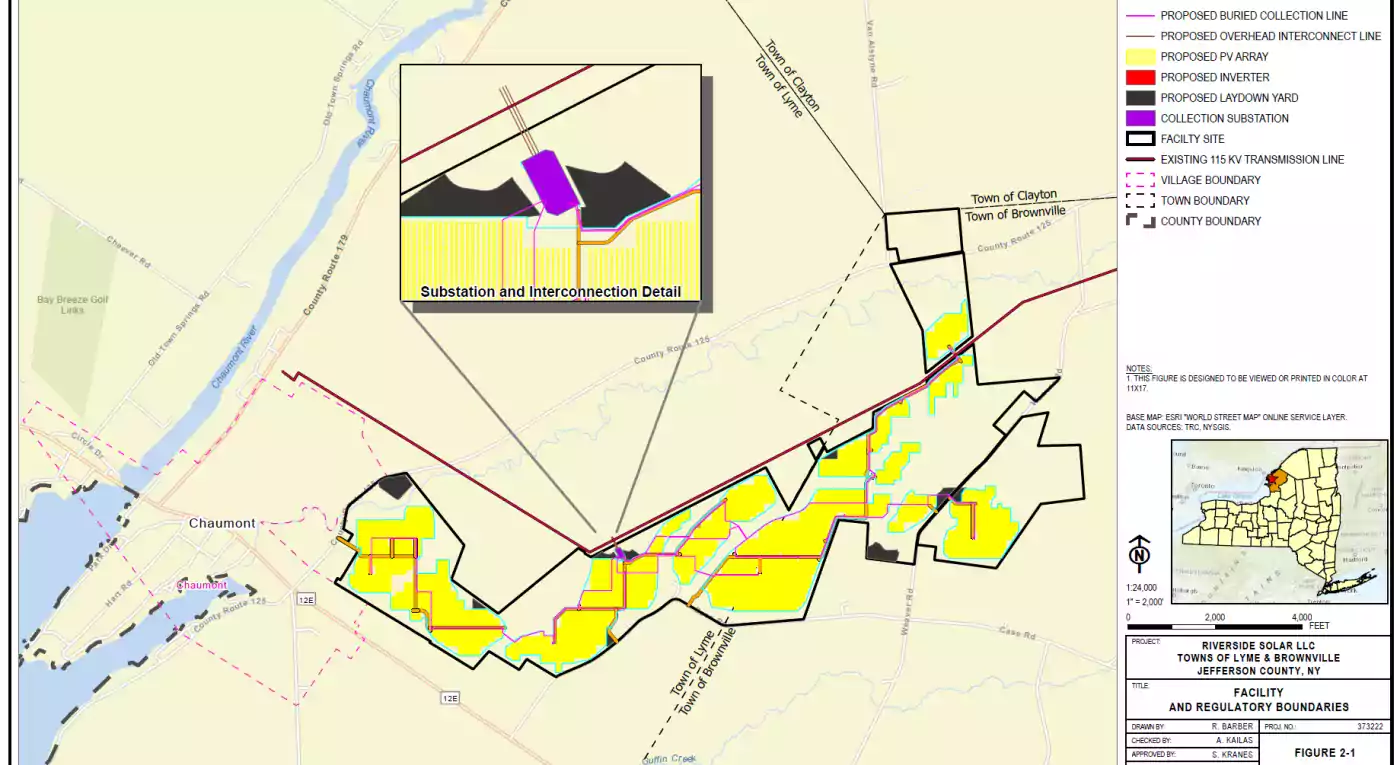 Project impacts
The Riverside Solar project will support New York State's climate goals and will have minimal impact on neighboring landowners, nearby communities, and surrounding landscapes. The Facility has been designed to minimize impacts to the maximum extent practicable and unavoidable impacts will be outweighed by the economic and environmental benefits of the Facility.
Specifically, stakeholders within the region will receive economic benefits from the Facility through construction, operation, and maintenance jobs, as well as expenditures for supplies and materials, lease payments to participating landowners, and tax payments to local communities.  In addition, the Facility will promote public health and welfare by offering a sustainable alternative to generating electricity by non-renewable methods to meet New York State's energy requirements. The Facility will contribute to a reduction in the amount of fossil fuel consumed and a corresponding reduction of global carbon emissions, which may result in a reduced rise in global ambient air temperature. This reduction in GHG emissions will contribute to improved environmental health overall. The Facility plays a crucial role for the community and the entire state of New York, as it will help meet New York State's energy goal outlined in the 2015 SEP and 2020 Amendment to the 2015 plan: achieving 70% of electricity generated by renewable energy in New York by 2030. Lowering these emissions also improves air quality, which is beneficial to respiratory and public health.
The Applicant has conducted various surveys and studies throughout the 94-c process and the previous Article 10 process to assess potential environmental and community impacts, as well as aesthetic and visual impacts to the area surrounding the Facility Site. The Facility will not produce emissions of air or water pollution, no odors, and minimal noise; and will have a  low profile relative to other types of development. Additionally, the Applicant intends to minimize impacts to community character through strategically placing vegetative screening, maximizing setbacks from residential uses, and avoiding sensitive resources. Impacts related to the construction and operation of the Facility are limited to:
Temporary and minor permanent impacts to agricultural land (pasture and row crops), forested land, and successional shrubland. Areas that are temporarily impacted will be restored to their original condition following the completion of construction.

Tree clearing has been limited to 82 acres of the 1,168-acre Facility Site. Fragmentation of forested habitat will be limited. The Facility has been sited to avoid existing hedgerows and vegetative barriers where possible.

USACE-jurisdictional wetland impacts are limited to 0.033 acre (1,437 square feet) and therefore, no compensatory federal mitigation is required. The Applicant will work with the Office of Renewable Energy Siting (ORES) regarding mitigation to NYS-jurisdictional wetlands for unavoidable impacts of 0.026 acres.

There are no impacts to NYS-regulated waterbodies as part of the construction and operation of Facility, and only minor impacts related to tree clearing within 50 feet of Horse Creek (a State-navigable water).

The Applicant has developed a net conservation benefit plan (NCBP) for the short-eared owl, northern harrier, and Henslow's sparrow involving Applicant-implemented grassland bird habitat conservation.

Traffic-related impacts associated with the Facility will be minor during construction. Once operational, the Facility is not anticipated to impact traffic through the Towns of Lyme and Brownville.

Noise and vibrational modeling have been conducted to confirm that impacts resulting from the construction and operation of the Facility will not exceed the design goals listed within the regulations of Section 94-c of the New York State Executive Law.

​​​​There is minimal expected visibility of the Facility within the two-mile visual study area. In accordance with USC §900-6.4 (l), the Applicant will implement the Visual Impacts Minimization and Mitigation Plan, including visual contrast minimization and mitigation measures, a lighting plan, and screen planting plans.
Project resources
Additional project resources are linked below. ALL materials filed in the Riverside Solar issues proceeding can be found here: DMM Matter Number 21-0075
Riverside Solar 94-c Application
Riverside Solar Supplement Response to NOIA
On February 23, 2022, Riverside Solar filed its 94-c permit application Supplement in response to the Notice of Incomplete Application (NOIA) issued by ORES on December 17, 2021. The Supplement response and attachments (A-AJ) are included below. 
Riverside Solar 2nd Supplement Response to NOIA
On May 26, 2022, Riverside Solar filed its second 94-c permit application Supplement in response to the second Notice of Incomplete Application (NOIA) issued by ORES on April 25, 2022. The Second Supplement Response and attachments (A-D) are included below.
Riverside Solar Second Supplement Response to 94-c Application
Image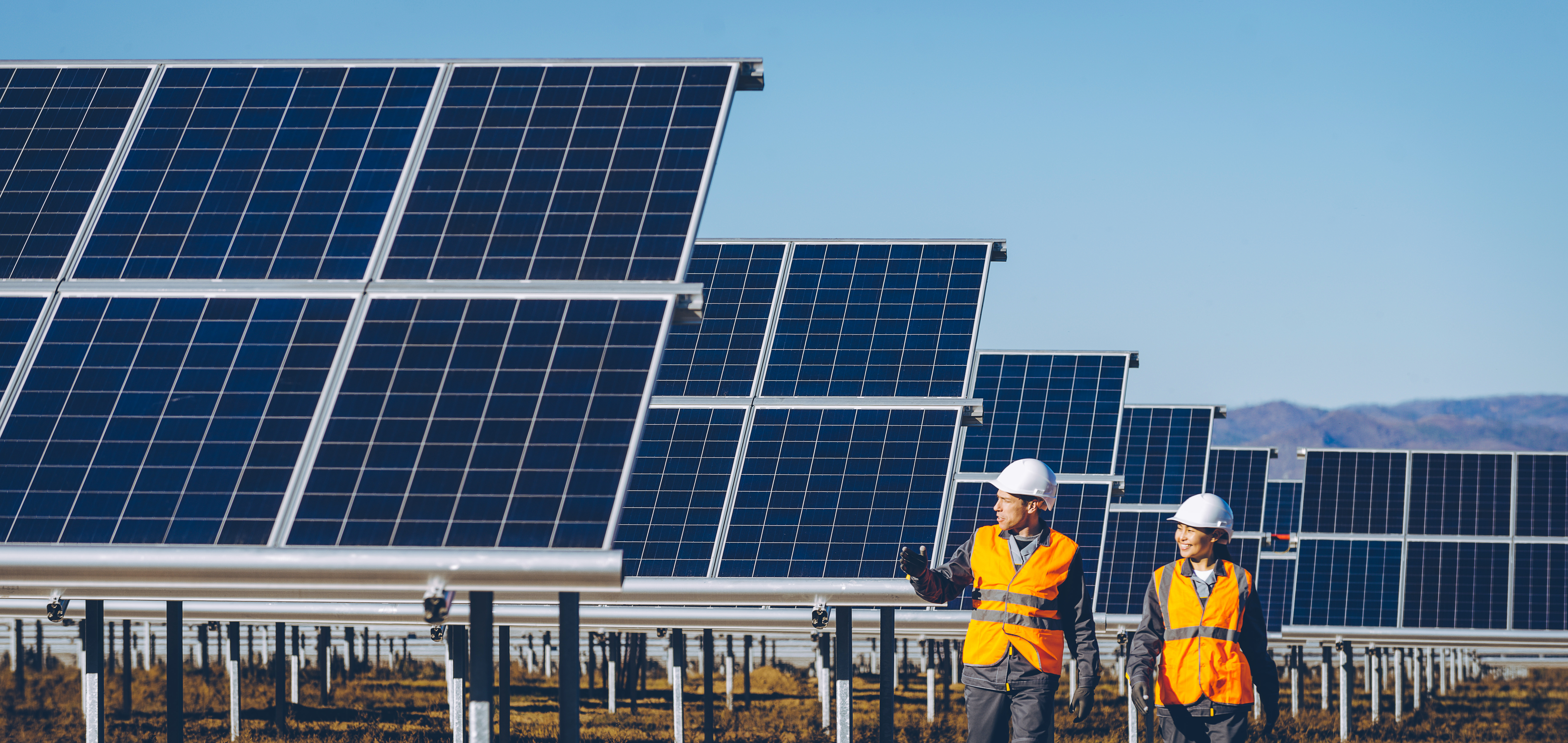 March 2021 virtual community meeting
Contact us
We want to hear from you! For any inquiries or comments about Riverside Solar, please contact us directly at:
Project email: riversidesolar@aes.com

Project phone number: 866-757-7697 (866-SLRPOWR)

Office address:
292 Madison Avenue
15th Floor
New York, NY 10017
New York office hours
Have a question or comment for AES about our work in your community? Give us a call during these hours to talk to a company representative. If you call outside of these hours, we will return your call as soon as possible.
Every Monday 11:00 AM-1:00 PM ET
Every Thursday 4:00 PM-6:00 PM ET
Call our New York team at 866-757-7697 (866-SLRPOWR)
Stay 

updated
If you would like to be designated as a Project Stakeholder and added to the Project's Master Stakeholder List, please fill out the following form. Individuals and groups on this list receive mailed copies of the regulatory project notices required by 94-c.