Enough clean energy to power nearly 80,000 Mississippi homes annually

14,000 acres of privately-held agricultural land
Dual-use operation, located on agricultural land that will continue to be used for farming rice, soybeans, corn and wheat under and around the turbines.
AES will be the long-term owner and operator of the facility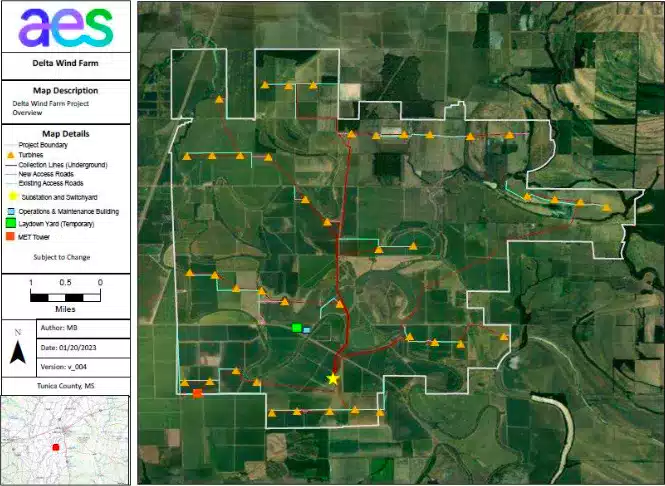 Expected project timeline
Construction                           2023

Operations                              2024

Pictured is AES' Delta wind farm under construction in June 2023
Economic and environmental benefits
We believe in being a good neighbor, ensuring responsible clean energy development that benefits both the environment and local communities without burdening existing infrastructure.

535,750 MWh
Carbon-free electricity generated each year, improving air quality and reducing CO2 emissions

Tens of millions of dollars
Expected to be generated in tax revenue for Tunica County and the school district over the life of the project.
Local schools will receive more than 48% of the tax revenue.

Nearly 300 jobs
Expected to be created during peak construction for Tunica County
Clean energy benefits local communities
Long-term tax revenue to counties, towns and school districts
Job creation during construction and operation
Landowner income diversification, keeping land in the family
Local economic stimulus during construction
Affordable, reliable, locally produced clean energy
Improved air quality and reduced CO2 emissions
Social impact funding to area community organizations and non-profits
Non-permanent development and low-impact construction that ensures land can be sensitively restored to pre-project conditions at the end of the project's life
Best practices in responsible and sustainable development
At AES, safety is our highest priority, and we've focused on improving lives for more than 40 years. As a leading innovator in energy solutions, sustainability is core to both our strategy and our culture. We are committed to responsible land use and incorporating sustainable best practices into the entire project lifecycle, contributing to building a domestic circular renewables economy and reducing foreign dependence
Environmental and technical studies
We conduct a series of studies that ensure our projects are thoughtfully and responsibly designed. AES designed the project to comply with the Tunica County Zoning Ordinance, and to adhere to the US Fish and Wildlife Service's wind energy wildlife guidelines to identify, avoid, minimize and compensate for any potential adverse impacts to wildlife resources thought to be at risk from energy development.
Partnering with communities for the future of energy
Stay updated
If you are interested in receiving updates about AES' Delta wind project, please fill out and submit this form.