The Sugar Maple Solar Project is a 125 megawatt (MW) solar photovoltaic electric generating facility with a 20 MW battery storage component proposed to be located on the border of the Towns of Croghan and Wilna in Jefferson and Lewis Counties, New York (the "Project"). The Project will span approximately 1,500 acres and plans to connect to the Black River to Taylorville (NY) and N. Carthage to Taylorville 115kV lines. The Project is anticipated to positively impact both the environment and the local economy by reducing carbon dioxide emissions by approximately 162,000 metric tons each year – the equivalent of taking an estimated 34,000 cars off the road – and producing significant tax revenue and other economic benefits for the area. 
How to become an intervenor in the 94-c process
Upon the filing of a 94-c Application, Sugar Maple Solar will post an intervenor fund ($1,000/MW) which can be sought by local community intervenors and host towns. 75% of funds are reserved for municipalities.
Any local agency or potential community intervenor seeking funding must submit a request for initial funding within thirty (30) days of the date of application filing. Such requests can be made to:
general@ores.ny.gov 
OR by mail to: 
Attention: Request for Local Agency Account Funding
Office of Renewable Energy Siting
Empire State Plaza
240 State Street
P-1 South, J Dock 
Albany, NY 12242
If you have questions regarding the intervenor process please contact the ORES office.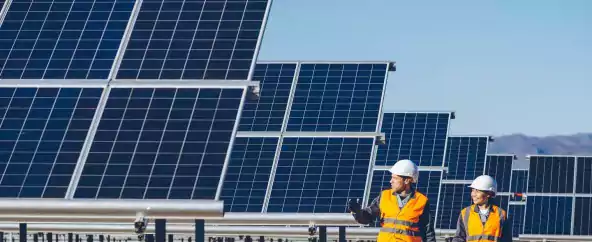 April 2020 virtual info session: recording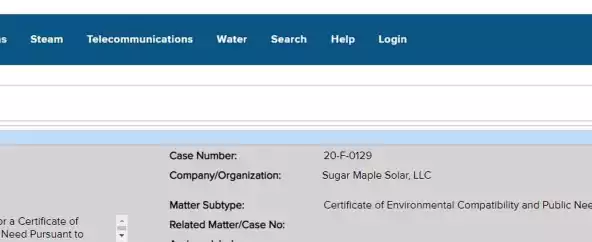 Sugar Maple Solar DMM
Upcoming events
New York Office Hours - Have a question or comment for AES about their work in your community? Give us a call during these hours to talk to a company representative.
Every Monday from 11:00 AM to 1:00 PM EST
Every Thursday from 4:00 PM to 6:00 PM EST
Call our New York office at 866-757-7697 (866-SLRPOWR)
Stay updated
If you would like to be designated as a Project Stakeholder and added to the Project's Master Stakeholder List, please fill out the following form. Individuals and groups on this list receive mailed copies of the regulatory project notices required by 94-c.