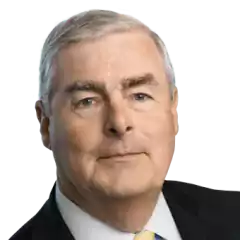 Jay Morse
Chairman and Lead Independent Director
John B. Morse, Jr. has been a director of AES since December 2008 and serves as Chairman and Lead Independent Director. Mr. Morse also serves an ex-officio member of each committee (with no voting authority as to such committees.) Prior to assuming the role as Chairman, he was Chair of the Financial Audit Committee and a member of the Strategy and Investment Committee.
Mr. Morse brings substantial executive experience to the Board, including board, investment and other finance expertise. Before his retirement in December 2008, Mr. Morse served as the Senior Vice President, Finance and Chief Financial Officer of The Washington Post Company (the "Post"), now Graham Holdings Co., a diversified education and media company whose principal operations include educational services, newspaper and magazine print and online publishing, television broadcasting and cable television systems recording over $4.4 billion in annual operating revenues. During Mr. Morse's 19 year tenure, the Post's leadership made more than 100 investments in both domestic and international companies and included new endeavors in emerging markets. Prior to joining the Post, Mr. Morse was a partner at Price Waterhouse (now PricewaterhouseCoopers), where he worked with publishing/media companies and multilateral lending institutions for more than 17 years.
Mr. Morse graduated with a B.A. from the University of Virginia and an M.B.A. from the Wharton School of Finance at the University of Pennsylvania. Mr. Morse is a Certified Public Accountant.